WHAT GETS US OUT OF BED IN
THE MORNING…
Back in 2009, Tom was a personal trainer at the gym across the road from the café Luke was managing, and was heading in most days for coffee, lunch & treats. It was over these daily visits that they struck up a friendship. But as Tom started to educate himself on holistic health & the importance of food as the building blocks of our entire being, he also started to realise that no amount of exercise was going to outweigh a bad diet – & that 7 marshmallows in his daily mochaccino was slightly overkill. It was this conversation around diet, movement & wellness that sparked an idea – an idea to create & shape something amazing that would change both their lives, & many others.
At a similar time, Luke's 2nd son was born with some pretty severe allergies. A conundrum that motivated Luke to educate himself more around nutrition & wholefood ingredients.
The idea was to create healthier snacks that kept things as natural & simple as possible. By using wholefood, nutrient-rich ingredients, their snacks could provide better sustenance to people between meals & on the run. 

The initial product was this massive green bar, the Trinity Bar, that everyone started loving. 
"We were initially selling it out of the café & Tom's clients & colleagues were popping in after training sessions to grab a bar".
Word started spreading fast & they soon realised they needed to find a way of getting this bar to more people & that's where Richard came into play.
Richard was a serial entrepreneur & a client of Tom's. With his expertise, the team were able to take the Trinity Bar to the people!
As their knowledge & experience grew, the products evolved & the team decided to change tack to eventually create SNACKABALLS – A gluten & refined sugar free snack that also helps with portion control.


"It's incredible to think that we started by making 7 Trinity Bars a day & today we are making over 1 million Snackaballs a week!" 


"We have been completely blown away by the support of family, friends, team members, partners & the people that choose to eat our Snackaballs over other options. We have been so humbled by the support & remain inspired to continue this journey, playing our small part in the health & wellness of the world. Our goal is to help educate people on how great food & movement is not only good for our physical & mental health, but good for the planet! Quite simply, we just want to help provide nourishment for healthy lifestyles."
With roots in Wellington, New Zealand, Tom & Luke are now available in Australia, Singapore, Japan & the USA. They continue to research & develop healthier options for those seeking nourishment for healthy lifestyles.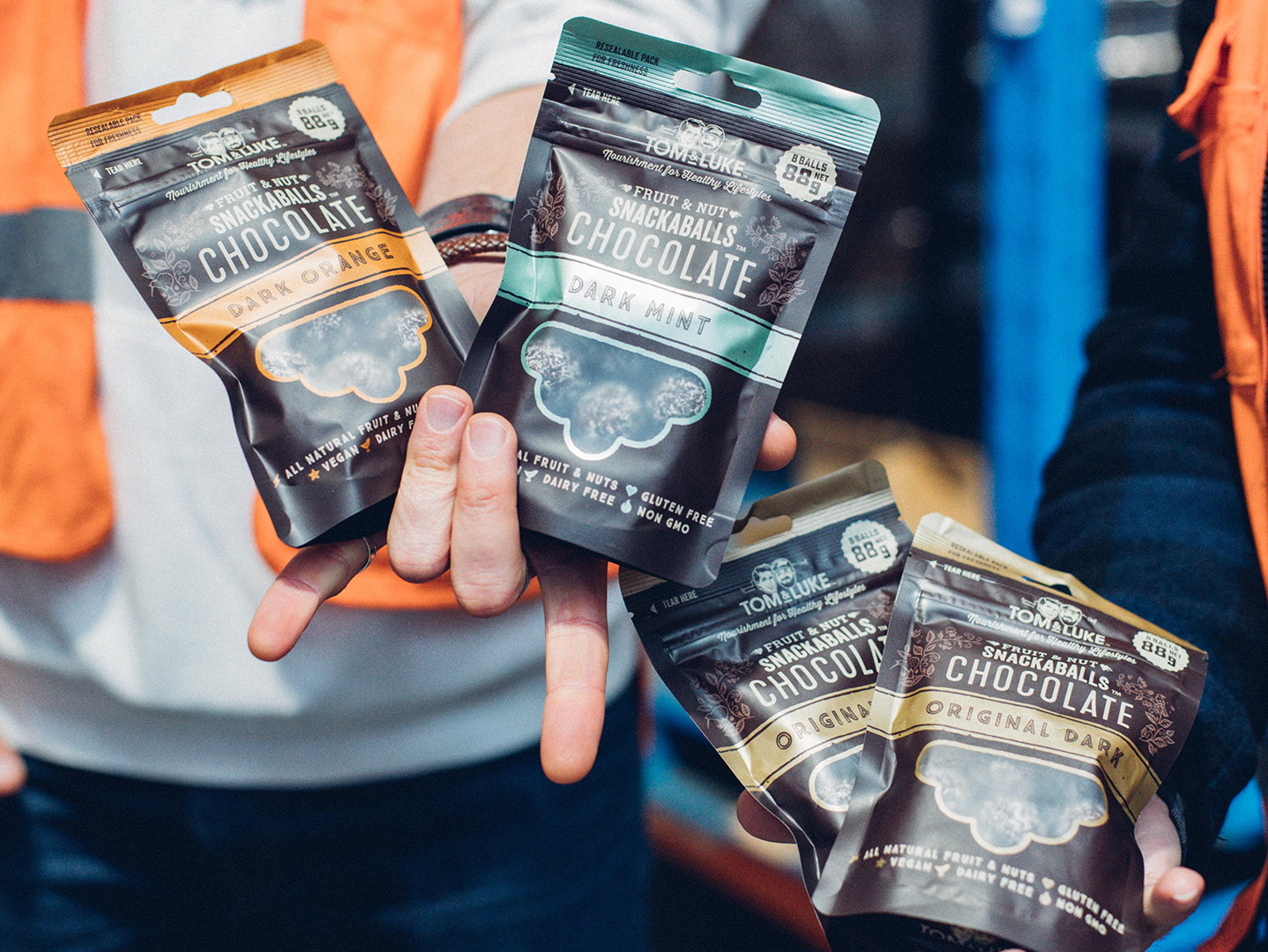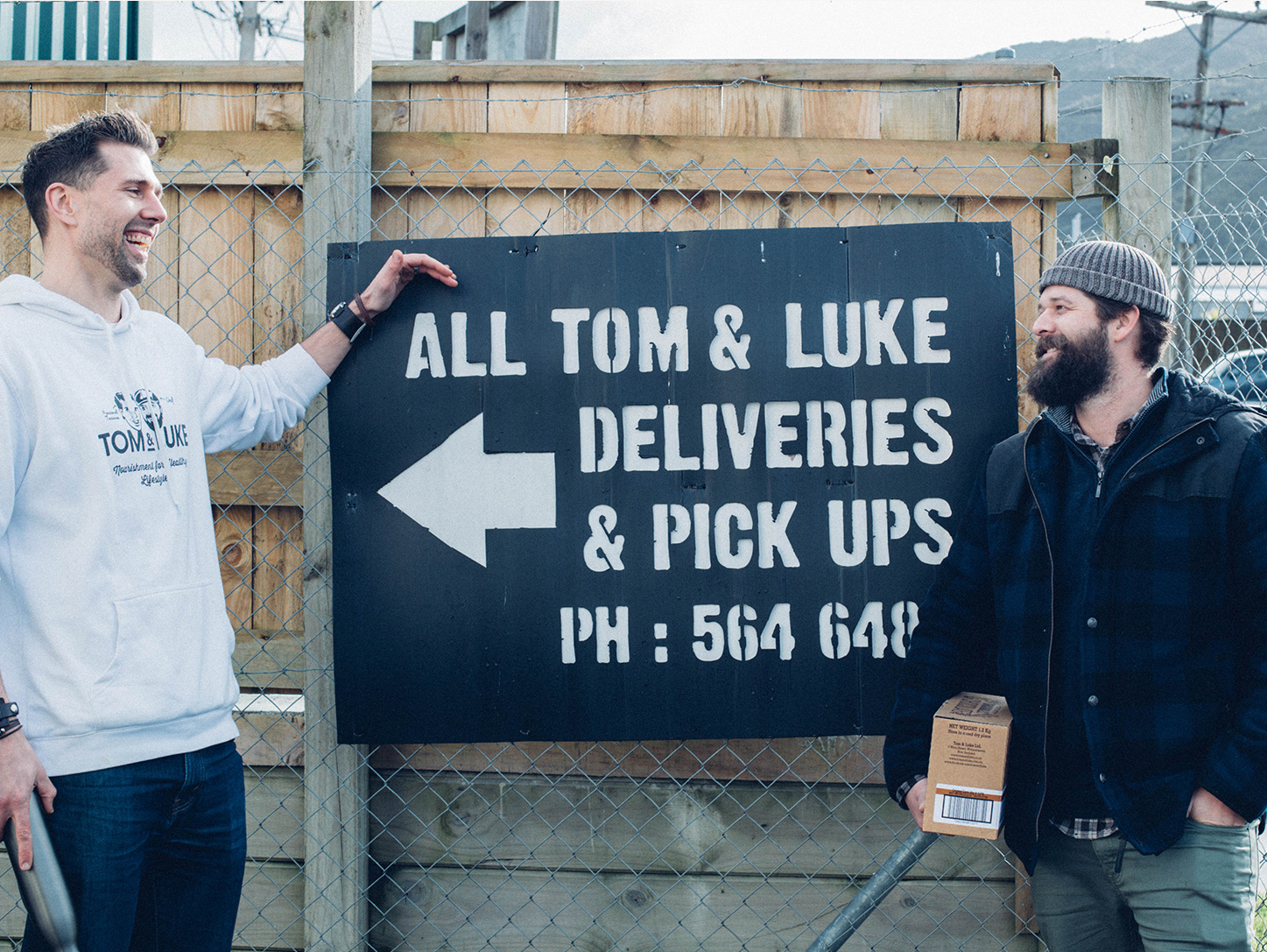 OUR FOOD PHILOSOPHY
At Tom & Luke we understand that we are what we eat; that food forms the building blocks of our cells & provides us with energy. That's why we use high-quality, non-GMO, whole-food ingredients & aspire to source organic wherever possible.
We are passionate about great tasting food. We know from experience that healthy food can taste amazing.
We want to make it simple & exciting to eat well when life gets busy & time is short.
We use minimal production techniques with maximum respect for our ingredients to create real products that deliver on our principles of optionality.
At the end of the day, it's the firm belief that we need to do what feels right that drives us;
• It feels right to source sustainable, ethical whole-foods.
• I feels right to use environmentally conscious packaging.
• It feels right to use high-quality ingredients with no nasties.
• It feels right to create real solutions that take the guess work out of eating.
JOIN THE MOVEMENT
We are pretty lucky to have an amazing team of people who help us do what we do – from the team "in the kitchen" churning out a million Snackaballs a week, to our in-house design team, to our team out on the road getting pots of goodies onto shelves & into mouths.
We are even luckier to have the likes of you out there who inspire us to do what we do, EVERY DAY! We are so grateful & humbled by your support. If you're keen to keep up with what we do (we're always coming up with something new to try out on you guys) feel free to follow us on the gram, be-friend us on Facebook, or enter your details below & we'll keep you in the know on all things food, wellness and what's cooking in the kitchen! – Not to mention some giveaways… everyone loves a freebie!
Nga Mihi.